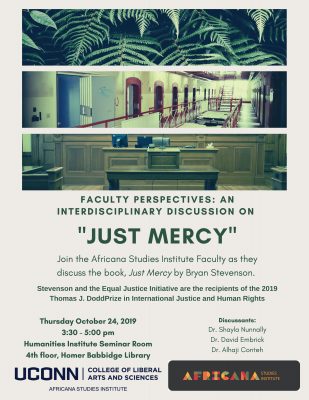 The Africana Studies Institute Presents:
Faculty Perspectives: An Interdisciplinary Discussion
Thursday, October 24, 2019
3:30-5:00 pm
Humanities Institute Seminar Room
4th floor Homer Babbidge Library
The Africana Studies Institute faculty will be discussing the book "Just Mercy" by Bryan Stevenson
Stevenson and the Equal Justice Initiative are the recipients of the 2019 Thomas J. Dodd Prize in International Justice and Human Rights
Panelists:
Dr. Shayla C. Nunnally, Associate Professor of Political Science and Africana Studies
Dr. David G. Embrick, Associate Professor of Sociology and Africana Studies
Dr. Alhaji Conteh, Assistant Professor in Residence, Africana Studies
Synopsis of the book:
#1 NEW YORK TIMES BESTSELLER • A powerful true story about the potential for mercy to redeem us, and a clarion call to fix our broken system of justice—from one of the most brilliant and influential lawyers of our time, as seen in the HBO documentary True Justice
Bryan Stevenson was a young lawyer when he founded the Equal Justice Initiative, a legal practice dedicated to defending those most desperate and in need: the poor, the wrongly condemned, and women and children trapped in the farthest reaches of our criminal justice system. One of his first cases was that of Walter McMillian, a young man who was sentenced to die for a notorious murder he insisted he didn't commit. The case drew Bryan into a tangle of conspiracy, political machination, and legal brinksmanship—and transformed his understanding of mercy and justice forever.
Just Mercy is at once an unforgettable account of an idealistic, gifted young lawyer's coming of age, a moving window into the lives of those he has defended, and an inspiring argument for compassion in the pursuit of true justice.
Winner of the Carnegie Medal for Excellence in Nonfiction • Winner of the NAACP Image Award for Nonfiction • Winner of a Books for a Better Life Award • Finalist for the Los Angeles Times Book Prize • Finalist for the Kirkus Reviews Prize • An American Library Association Notable Book